Tohtori W.D. Gaster on ns. easter egg, eli ei varsinaisesti tiedettävä hahmo, ja ehkä jopa Sansin ja Papyruksen isä (tässä tapauksessa hän joko teki Sansin ja Papyruksen labrassaan, tai hänellä on kuollut/kadonnut vaimo), tai Sansin pomo. Hän oli Kuninkaallinen Tieteilijä ennen Alphysia, ja Ytimen rakentaja.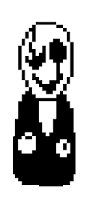 Kerrotaan, että Gaster teki hyvää työtä tieteilijänä, kunnes eräänä päivänä hän tippui Ytimessä olevaan Tyhjiöön, ja pyyhkiytyi todellisuudesta.
W.D. Gasterin nimi tulee kahden fontin nimistä: Wing Dings ja Aster. Hän on jättänyt Oikeaan Labraan viestin, joka on kirjoitettu Wing Dings- fontilla. Siinä sanotaan:
"Entry Number Seventeen.
Dark, darker, yet darker. The darkness keeps growing. The shadows cutting deeper. Photon readings negative. This next experiment seems very, very interesting."
What do you two think?
Gasterilla on pelissä monia mahdollisia ilmestymisiä: Jos pelin koodia muuttaa, voi Snowdinissa nähdä omituisen oven. Jos sen taakse menee, näkee mysteerisen hahmon (jota kutsutaan usein nimellä Mysteryman) jonka uskotaan olevan tohtori Gaster. Pelissä voi myös nähdä Wing Dings- fonteilla puhuvan,
haamua muistuttavan hahmon, joka sanoo [REDACTED].
Myös muita mahdollisia ilmestymisiä on.
Sansin salaisessa työpajassa on valokuva, jossa lukee, että kuvassa on Sans, sekä henkilöitä, joita pelaaja ei tunnista. Nämä voivat olla Sans, Gaster ja Gasterin laboratorioassistantit. Tämä olisi yksi syy sille, miksi Sans voisi olla Gasterin assistantti; hän esiintyy kuvissa muiden assistanttien kanssa. Toinen vaihtoehto on että Sans on kuvassa koska hän on Gasterin poika, ja tuli kyseisenä päivänä hänen mukaansa töihin. Fanien sanojen mukaa Gaster voi olla haljennut Sanssiin ja Papyrukseen ja puhuisi heidän kautta. Joka myös selittää sen että jos Papyruksen tappaa niin Sans suuttuu ja yrittää kostaa tämän pelaajalle.
Ad blocker interference detected!
Wikia is a free-to-use site that makes money from advertising. We have a modified experience for viewers using ad blockers

Wikia is not accessible if you've made further modifications. Remove the custom ad blocker rule(s) and the page will load as expected.