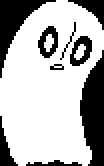 Napstablook on melankolinen haamu ja muusikko joka elää Vesiputouksilla, esiinnyttyään Raunioissa pelin ensimmäisenä minibossina.
Profiili
Edit
Napstablookin designi on simppeli haamu : Enimmäkseen musta ja valkoinen, pitkä valkoinen keho, kaksi silmää mustalla screlalla ( Valkoinen osa normaalista silmästä ), valkoiset pupillit ja suu. Napstablookilla on myös hattu ja kuulokkeet. Hattu ilmestyy Napstablookin taistelussa, ja on melkein kokonaan valkoinen. Kuulokkeet nähdään ensimmäistä kertaa Napstablookin kotona.
Persoonallisuus
Edit
( Kesken )
Ad blocker interference detected!
Wikia is a free-to-use site that makes money from advertising. We have a modified experience for viewers using ad blockers

Wikia is not accessible if you've made further modifications. Remove the custom ad blocker rule(s) and the page will load as expected.