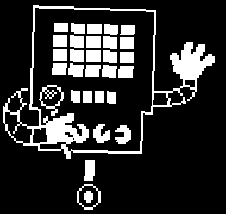 Mettaton on robotti sielulla, jonka Alphys on rakentanut. Mettaton oli alunperin haamu, ja tuon on spekuloitu olevan sukua Napstablookille, Mad Dummylle ja Ruinsien Dummylle. Mettaton tapasi Alphyksen fanikerhossaan, jossa Alphys oli ainoa jäsen. He alkoivat yhdessä suunnitella Mettatonille kehoa. Viihdetarkoituksiin tarkoitettu robotti kääntyi olemaan ihmisen tappamiseen tarkoitettu robotti, mutta Mettaton myöhemmin paljastuu ovat ainoastaan toimineen sellaisena. Mettaton on ainoa televisiotähti Alamaailmassa.
Mettaton on väriltään harmaa pyörällä liikkuva laatikko, jolla on valotaulu rinnassa. Valotaulussa vilkkuu yleensä numero yksi, sekä muita keltaisia ja punaisia valoja. Mettatonilla on kaksi robottimaista kättä ja mikrofoni.
Mettatonilla on muitakin "muotoja". Mettaton EX esiintyy Neutraalilla polulla, kun olet kääntänyt taistelun aikana Mettatonin selässä sijaitsevaa vipua. Mettaton EX on Mettatonin vartalo, jonka hän pyysi Alphysta tekemään hänelle. Mettaton Neo on Murhareitissä esiintyvä Mettatonin muoto, joka muistuttaa Mettaton Ex:aa, mutta jossa on joitain muutoksia (esim. Mettatonin toinen käsi on kanuuna).
Ad blocker interference detected!
Wikia is a free-to-use site that makes money from advertising. We have a modified experience for viewers using ad blockers

Wikia is not accessible if you've made further modifications. Remove the custom ad blocker rule(s) and the page will load as expected.